10 Most Romantic Western Movies You Should Watch Next
The Western is a very interesting genre. Most are packed to the brim with manliness and machismo. Most have daring action set in rugged settings where only the tough and hardened can survive, and every problem can be solved with a six-shooter. At the same time, no other genre has as much heart. That is, except for the romance genre. When the two come together, they make for some pretty compelling movies.
Imagine men like Clint Eastwood or John Wayne falling head over heels in love with a tough-as-nails woman. It's likely happened before, but they were probably too macho to really wear their hearts on their shoulders. Not every western-romance has to be a guns-blazing adventure. Some are just good fun, showcasing the harsh and unforgiving west of a bygone era while still putting smiles on faces, like musicals or animated adventures. Here are the top ten best western romance movies that you should watch next.
10
The Horse Whisperer
The Horse Whisperer is based on the 1995 novel of the same name by Nicholas Evans, and provides an endearing romance that can capture the attention of even the most disinterested viewer. In this movie, Robert Redford plays a horse trainer named Tom. He has a talent for understanding horses, so when a young girl (Scarlett Johansson) and her horse get injured following an accident, cowboy Tom is hired to nurse them back to health. In mending their bodies and spirits, Tom soon starts to fall for her mother, Annie (Kristin Scott Thomas). However, they are reluctant to act on their feelings. But in Montana, there's nothing but time, and they soon begin to realize that some things just can't be ignored.
Related: 10 Western Movies That Subvert the Toxic Masculinity of the Genre
9
Spirit: Stallion of the Cimarron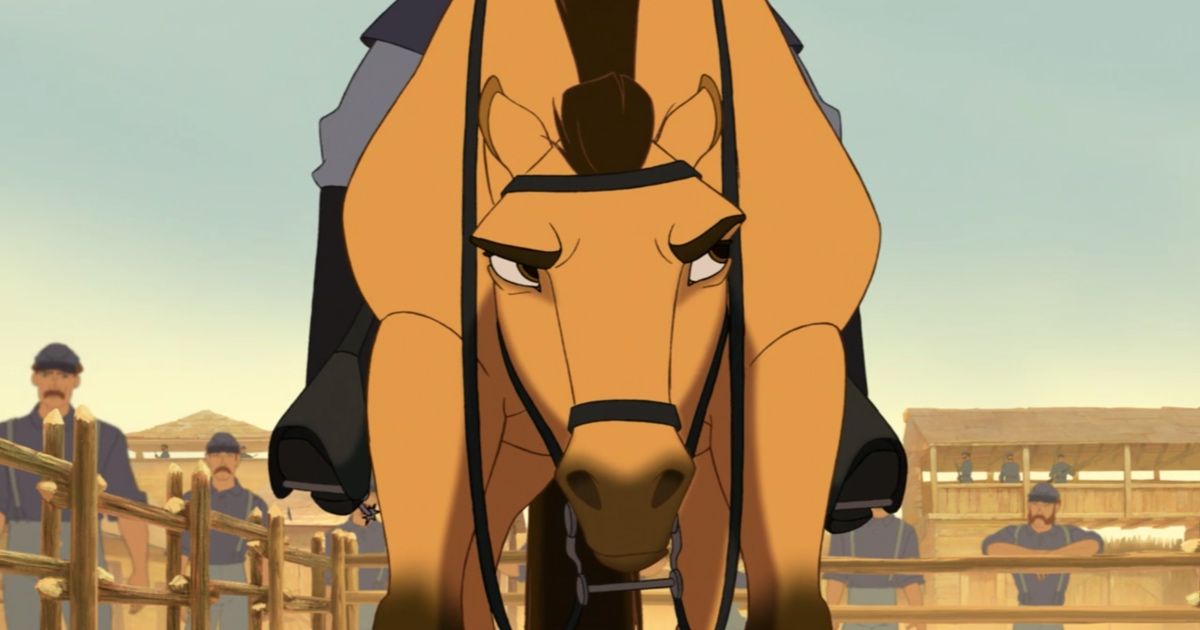 While not a full-fledged romance, Spirit: Stallion of the Cimarron has a good deal of it. Told from the perspective of the titular horse, Spirit was wild and free with his herd in The Great Plains. That all changed when he gets captured by the United States Calvary. Spirit is freed by the Lakota Native Little Creek and soon falls for his mare named Rain. Over time, Spirit comes to respect the Lakota, and vice-versa, even risking his life for Little Creek and Rain before they are eventually released together to return to his herd. Although the horses don't speak (except for Spirit's voice-over), his romance with Rain is beautiful, told with stunning animation and gestures. Spirit isn't remembered very well today, but viewers would be remised to revisit this adventure, whether it be for the romance, the western, or both.
8
The Longest Ride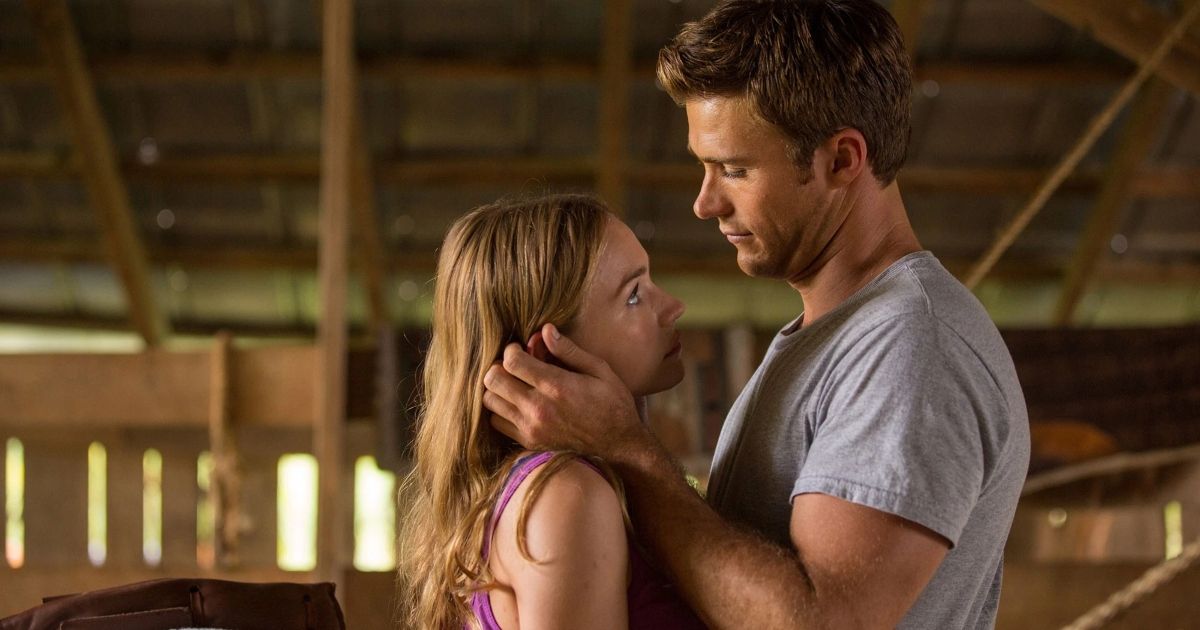 In a list of best romances, of course, Nicholas Sparks is going to have his chance to shine, and he wrote the book for this touching western romance, The Longest Ride. Sophia (Brit Robertson) is a college student with dreams of entering the art world in New York, while Luke is a professional bull rider. They couldn't be any more different, and yet they still can't help falling in love. And of course, as is bound to happen, their differences start getting in the way of their relationship, casting doubts. It's when Sophia hears the captivating story of an elderly man and his late wife that she begins to consider that love can withstand any challenge. Don't miss The Longest Ride because it's definitely one of those cowboy romances that will make you swoon.
7
Oklahoma! (1955)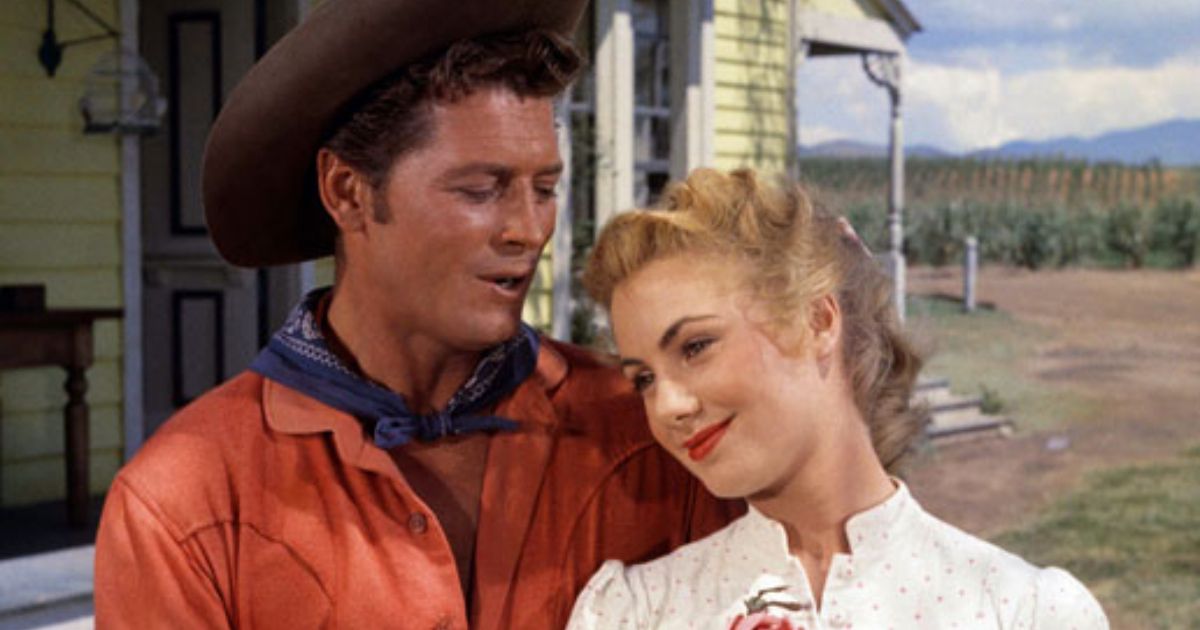 A smash hit on both screen and stage, Roger's and Hammerstein's Oklahoma! is a timeless western romance musical that still holds up to this day. Set in the year just before Oklahoma achieved statehood, the story follows cowboy Curly McLain, who finally summons up the courage to ask out the farm girl Laurey Williams. He didn't realize that she had feelings for him as well and hated having to wait so long for him to make a move. In retaliation, she accepts an invitation from the intimidating and brutish Jud Fry to go to the Box Social. What Laurey didn't realize was that Jud was more dangerous than she had thought, and she fears he might hurt Curly. Oklahoma! is a timeless and endearing love story set with great musical numbers, like Curly and Laurey's duet "People Will Say We're In Love." There are multiple different renditions of this story, so viewers won't have to stick to just one, either.
6
Two Mules for Sister Sara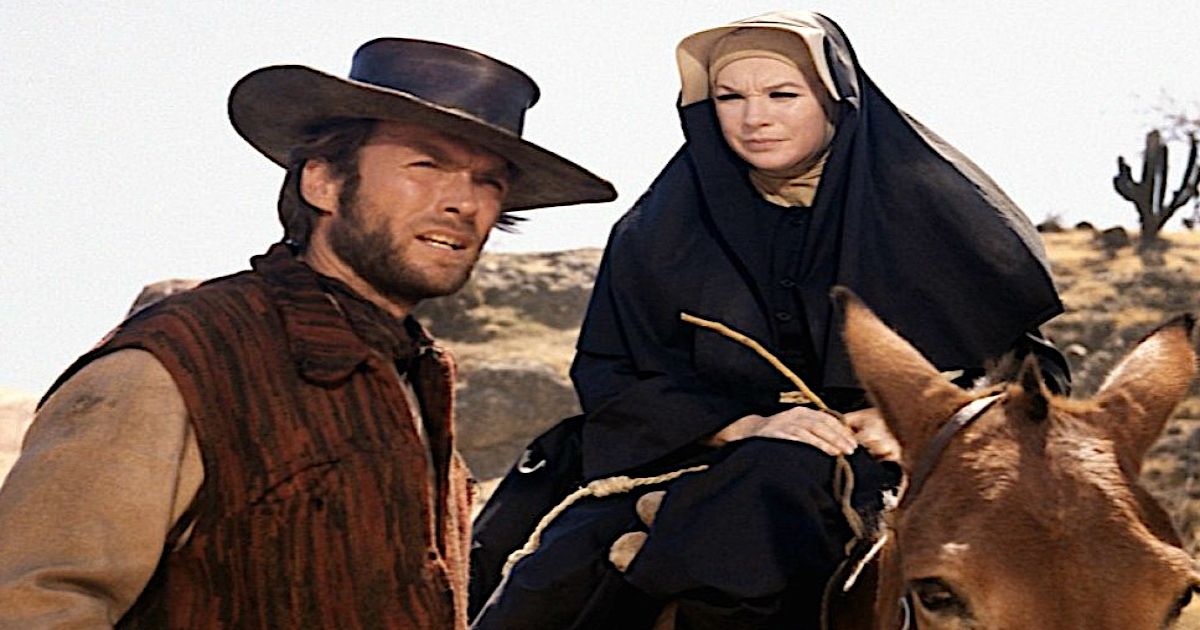 What list of westerns would be complete without an appearance from Clint Eastwood? Two Mules for Sister Sara sees Eastwood play Hogan, a cynical war veteran in Mexico looking to earn a fortune by trading arms to the Juarista rebels who are fighting against the French Emperor Maximilian. While there, he finds himself as a protector of Sara (Shirley MacLaine), a maverick nun who is being hunted by the French. If Hogan had faith or cared for the word of God, he'd easily see that Sara is not at all who she says she is. It's only after several adventures that he learns of her true identity and crimes. But by then, he may have fallen too hard for her to abandon her. It's rare to see Eastwood in a romantic role, so for any western fans, they may love to see what it takes to break that hard exterior of his.
5
Calamity Jane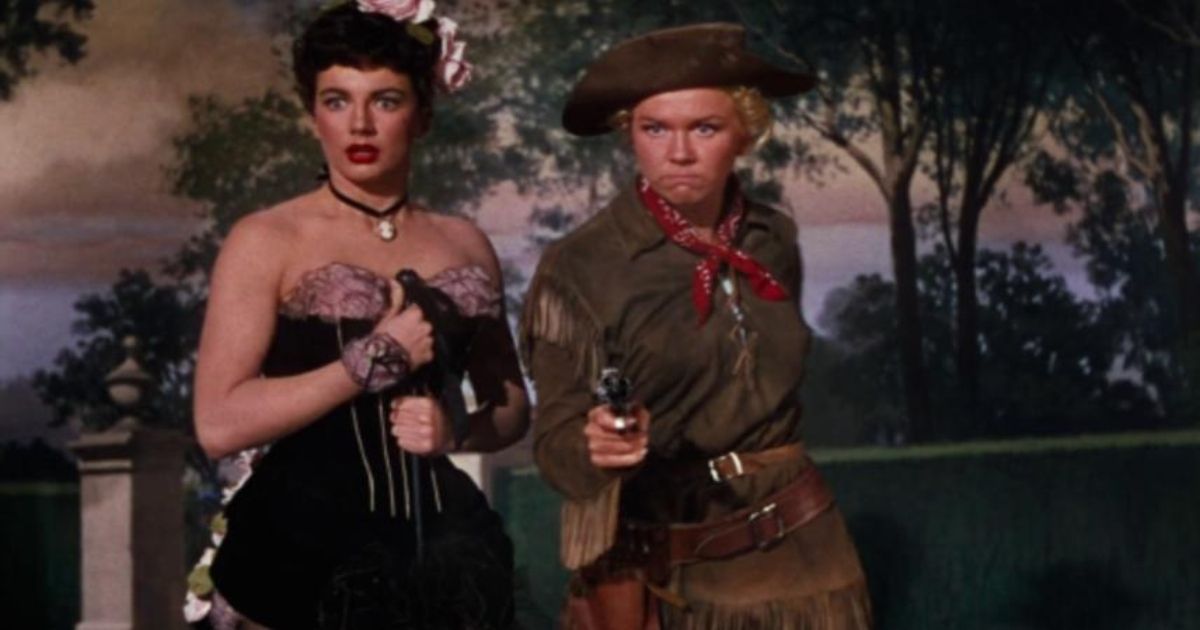 In a not-so-authentic depiction of famous western heroes, Calamity Jane takes place in Deadwood and sees the western heroine attempt to bring star power to her saloon. However, instead of a famous actress, she gets an assistant with big dreams. Calamity soon finds herself competing with said assistant for the affections of one Lieutenant Danny Gilmartin, but on the losing side of the contest. However, Calamity soon finds her heart was racing toward the wrong person when she realizes it belonged to her friend Wild Bill Hickock all along. Calamity Jane is a fun western romance that leaves behind the shoot 'em-up theme for more of a musical grand old time. It's fun for the whole family and an underrated western that'll show that even the hardest hearts can be the warmest.
Related: Modern Westerns and the Resurgence of the Cowboy On Screen
4
The Man From Snowy River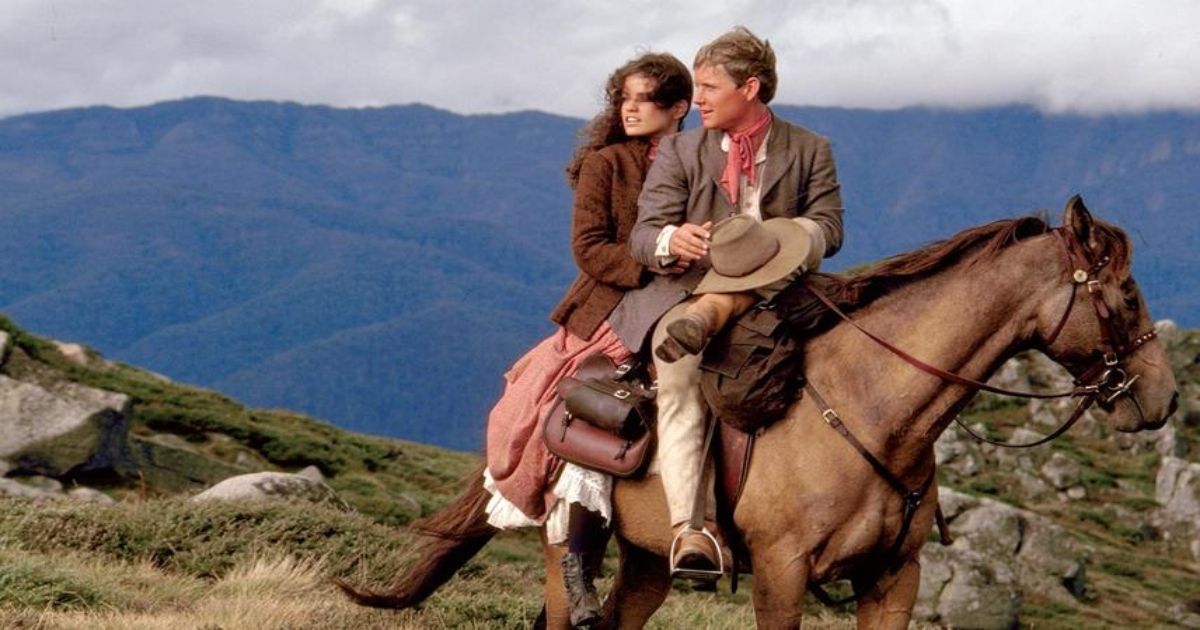 Based on the poem of the same name by Banjo Paterson, The Man From Snowy River sees Tom Burlinson on a journey to prove his worthiness to inherit the family ranch after his father dies. The task proves to be tougher than he thought, though, when he takes a job working for Harrison (Kirk Douglas) and is quickly fired for his lack of skill. While employed, he befriends Harrison's daughter Jessica (Sigrid Thornton), and the two quickly fall for each other. With no job and his hopes fading, the two strike out together to find one of Harrison's prized colts for a reward and the restoration of his honor. The Man From Snowy River is a true western classic and captures the heart of Australia, as well as the hearts of both western and romance lovers.
3
Open Range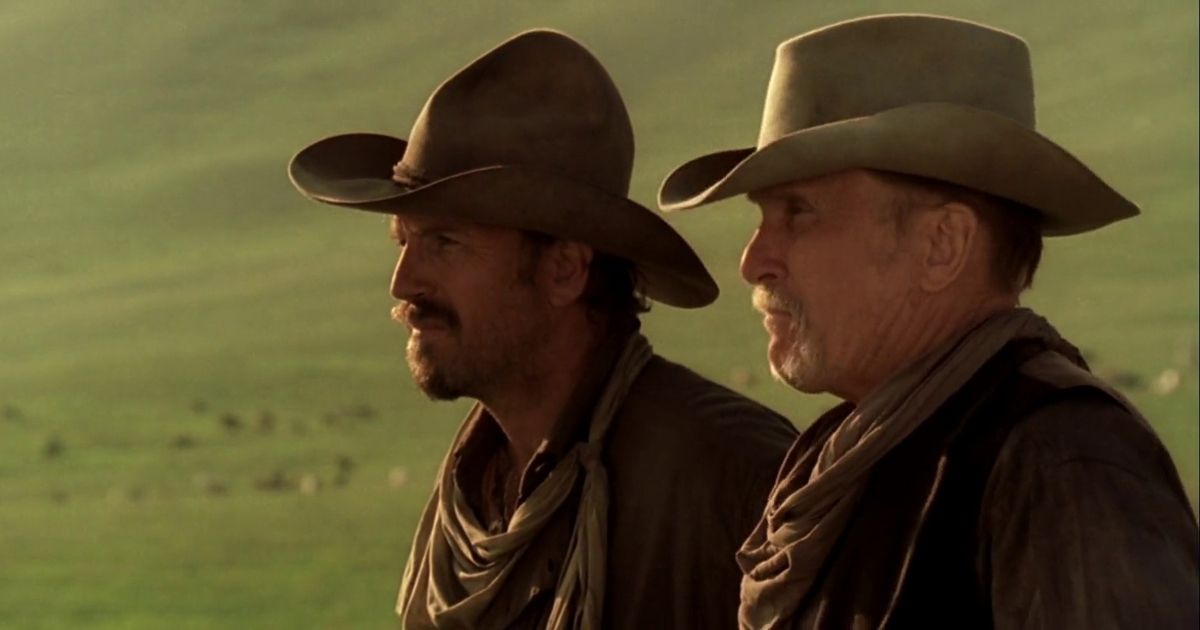 Kevin Costner is, without a doubt, one of the kings of the western genre, and it's in Open Range that he's at his best. The film is more action than romance as it sees Boss Spearman (Robert Duvall) and his hired hands taking up arms to face off against a corrupt lawman. The movie is slow-paced for the most part, but only to save itself for the brutal and messy gunfight in the conclusion. Tthe romance takes place between Charley (Costner) and Sue (Annette Benning), the sister of the town doctor. While it does not take up most of the film, their chemistry is palpable from their first meeting. What also makes this relationship special is that it depicts the relationship of an older couple. Something unusual at the time. Open Range is a must-watch not only for its riveting story but simply because it's one of the best westerns ever put to film.
2
Legends of the Fall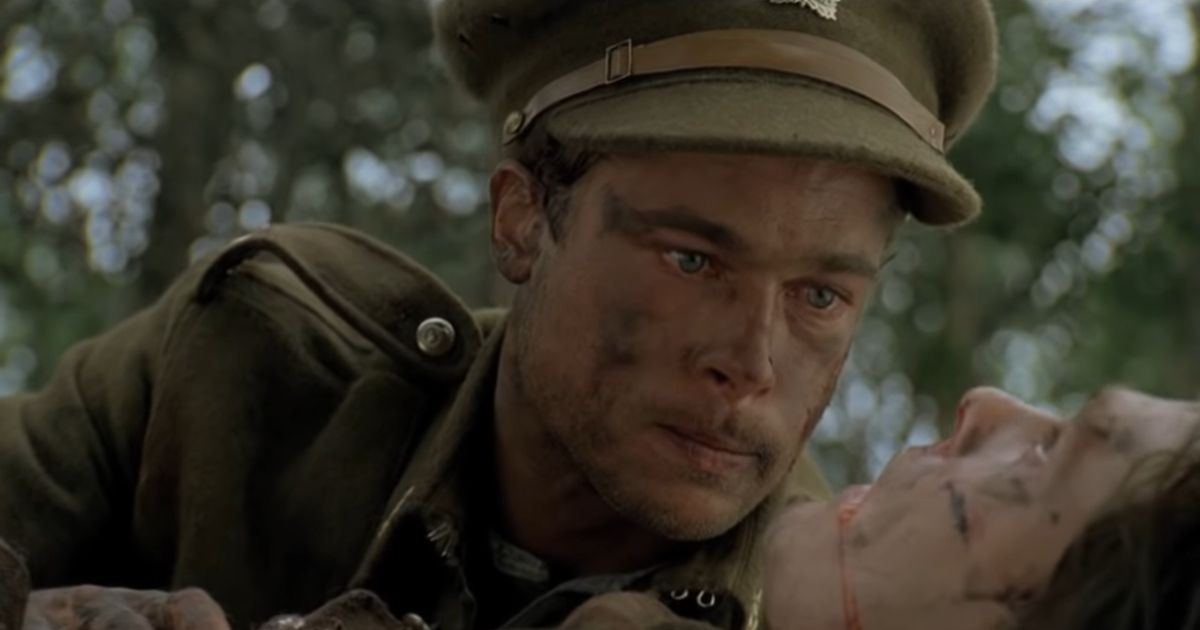 Here is Brad Pitt in one of his finest films. Set in the early-20th Century, Legends of the Fall is a complicated love triangle between three brothers and a young woman. After moving to rugged Montana, Samuel (Henry Thomas) returns from Harvard with his fiancé (Julia Ormond), who quickly attracts the affections of Tristen (Pitt) Samuel's brother. He vows to protect Samuel after all three men enlist to fight in World War I, but when Samuel dies, Tristen and his remaining brother Alfred (Aiden Quinn) return and soon wrestle for Susannah's affections, threatening to tear the family apart. Legends of the Fall benefits from a complex plot and avoids becoming a melodrama with ease and grace, a testament to the stellar cast. It was an expert fusion of two genres, making it one of Pitt's best films and one of the best westerns out there.
1
Brokeback Mountain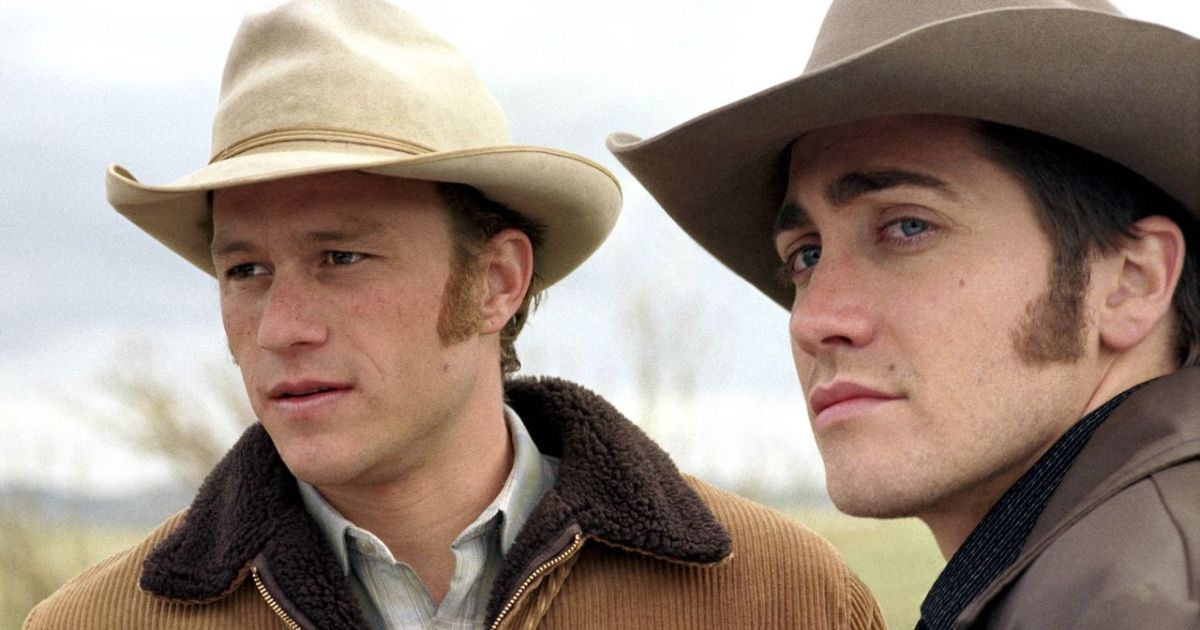 There was only one movie that could have taken the number one spot on this list. Ang Lee's Brokeback Mountain is a perfect blending of two genres to create a beautiful love story. Ennis Del Mar (Heath Ledger) and Jack Twist (Jake Gyllenhaal) find themselves in an unexpected romance when they sign on to herd a rancher's sheep. They enjoy their whirlwind romance but are forced to part ways at the summer's end to return to their wives. They carry on their secret affair for two decades until it comes to a tragic end. Brokeback Mountain deftly captures a culture and period that explore the themes of queerness and love in a place where their intersection is highly forbidden. Audiences walk away from this movie in tears because it's so powerful, demonstrating its strength as a film while conveying concepts of longing and forbidden love in a timeless tale that will never die.
Tagged:
Movies
Romantic
Watch
Western