If Anthony Mackie gets his way, he will soon be swapping one Disney frachise for another with a role in The Mandalorian.
You would think that Anthony Mackie has his hands full at the moment with his role as Captain America in the MCU, his new movie We Have a Ghost on Netflix and his lead role in the upcoming Twisted Metal series. There is one more goal that Mackie has in mind though, and that is securing a role in The Mandalorian, no matter what he had to do or how small the part is.
As someone who has had a prominent role in the Marvel Cinematic Universe from Phase 2's Captain America: The Winter Soldier, it could be assumed that Mackie would want to avoid any other big franchises, but it seems he really, really wants to be part of the Star Wars franchise's golden child. While appearing on the Happy Sad Confused podcast, Mackie enthused his love of the character of Boba Fett and his desire to become part of The Mandalorian's world in some way. He said:
"Yo, when I heard they were doing- this is the one and only time I call my agent, and my manager, and said, 'It's gonna be a problem,' was when I heard they were doing The Mandalorian. I was like, 'Yo, now, I ain't gonna make this no conversation. I ain't gonna get on no, I'm star-type sh*t,'I ain't gonna yell at y'all, but we we need to- Come on. Come on. I am the best. I have the helmet. I can literally show up in my costume from my house, ready to shoot.' That's real. I wasn't available. Now, I'm trying to get one of those roles in the background, where they're doing the thing, and I take off my helmet, and go, 'That was a long flight.' That's it. That's all I want is one scene. I just want everybody to know that I was one of them."
Related: Anthony Mackie Discusses Playing a 'Humane' Hero in Captain America: New World Order
Anthony Mackie Will Make His Captain America Movie Debut in 2024's Captain America: New World Order.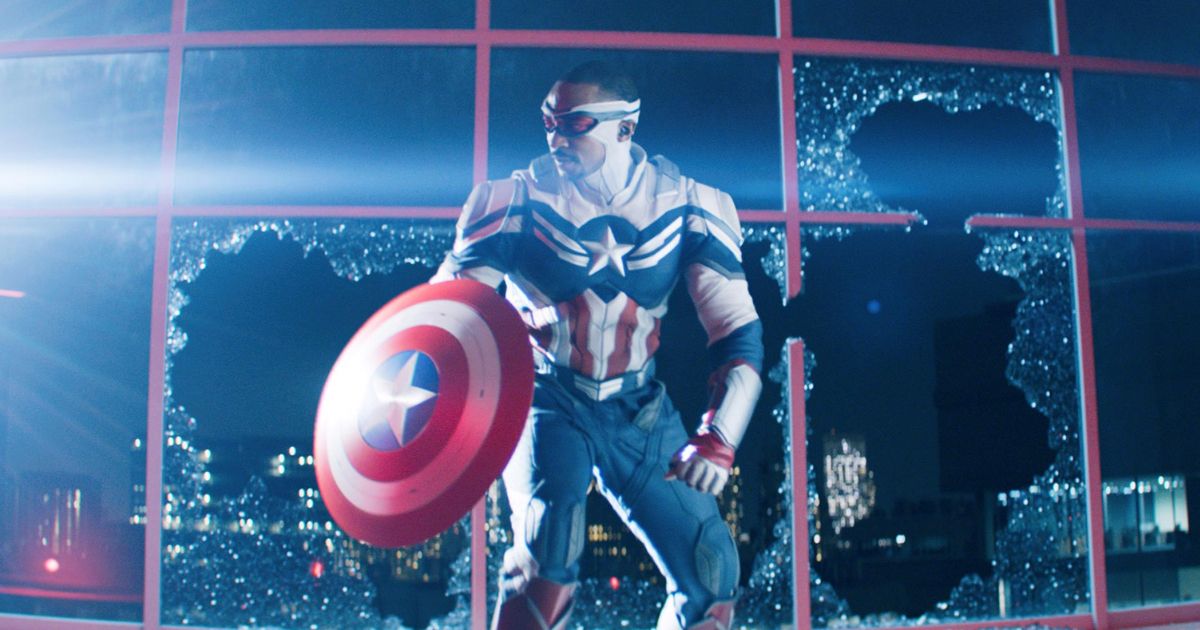 Filling the boots of Chris Evans' Steve Rogers in the MCU is not a task anyone would find easy, but that is the challenge that Anthony Mackie faces in his next big MCU appearance in Captain America: New World Order.
Having taken on the mantle of Captain America in the Disney+ series The Falcon and the Winter Soldier, Mackie's time as the commander of the shield will see him facing a new MCU threat as the story reportedly sees the world going to war over newly discovered stores of Adamantium. Whatever transpires in the movie, it will certainly have an impact on the future of the MCU, but Mackie previously said that his path won't necessarily see him leading the Avengers in their next ensemble. Mackie recently commented:
"Sam is the only character without superpowers. He's just a regular dude hanging out with a bunch of weirdos. Being from New Orleans, I've been in a few fights. And heart and charisma never helped me in a fight. That usually just got me beat up. So that might cause an issue when you go fight somebody like Thanos. So, I think with him, he has to come to the stage with a very different understanding of what it is to be a good guy or be a bad guy and what are the decisions that make you toe that line in the way that you did. So, I just see him as more of a humane Cap as opposed to a distinctive judge Cap — [a] Cap of judgment, where this is right and this is wrong. There are decisions that make you choose right or wrong."