Invincible Creator Claims His Character Could Beat Marvel and DC Favorites
Ryan Ottley is sure that his famous hero, Invincible, can easily take on some major comic book characters.
Can Invincible beat Superman or Thanos? Ryan Ottley has no doubts. Created by Robert Kirkman and Cory Walker, the character debuted in 2003 and was published by Image Comics. In 2021, Prime Video took its story to the screen in an animated adult series that became an instant hit, following the steps of its streaming partner The Boys.
Now, while fans await for Season 2 of the show to arrive, the offer of superhero-based stories keeps rising, with Marvel and DC characters dominating the scene and a couple of outsiders delivering some alternatives. But even when the two leading companies might dominate the box office or the streaming charts, it seems that their characters couldn't win in a fight against Mark Grayson.
Or at least that was the series co-creator Ryan Ottley thinks. In a chat with Skybound on YouTube, he assured fans that the character could easily take on some major DC and Marvel guys:
"I think even with [the Infinity Gauntlet]. He's about to snap, and he just breaks the fingers. Rips the glove. Now Invincible has the gauntlet. Invincible demolishes Superman."
The Man of Steel and the villainous Thanos are, without a doubt, some of the most powerful characters out there, so claiming Invincible can beat them is quite a statement.
Related: Jeffrey Dean Morgan Seems to Be Teasing His Casting in Invincible
What to Expect from Invincible Season 2?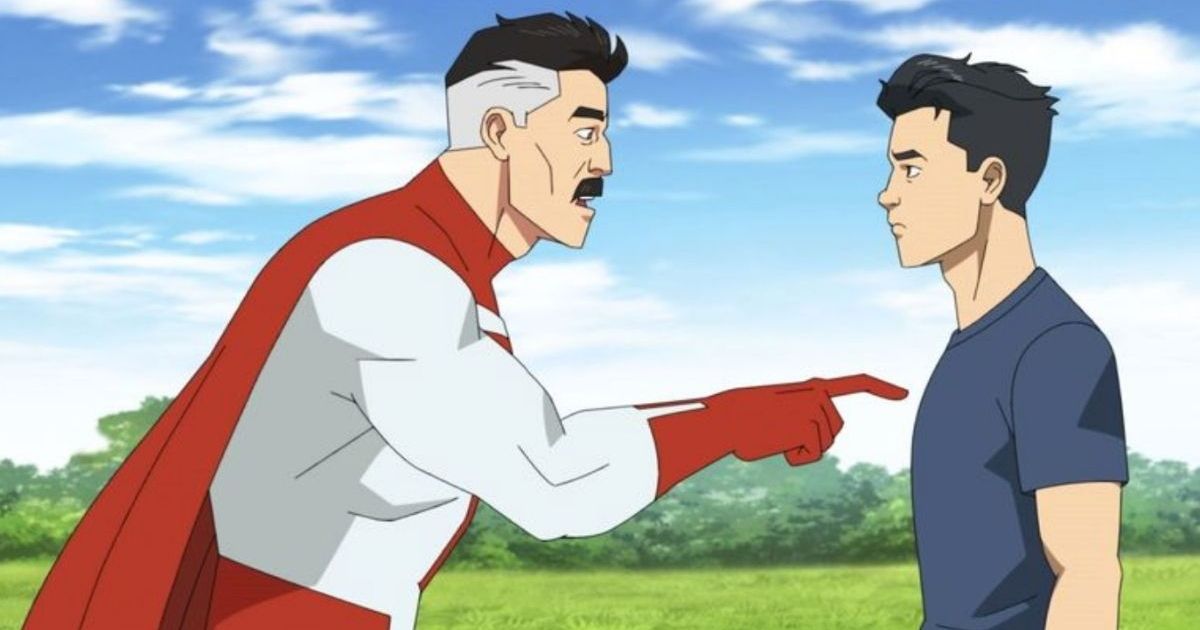 Invincible starts as a coming-of-age story for Mark Grayson, who later takes on the titular moniker. The son of Nolan Grayson, aka Omni-Man, the best and strongest superhero on Earth, Mark is a regular high schooler who looks up to his father and is burdened with the usual teenage struggles.
Omni-man is initially presented as an all-powerful Superman-like figure, albeit a bit more stoic. Thanks to his father's superhuman physiology, Mark gains similar powers and learns how to better control them from Nolan. In addition, we are introduced to the peacekeeping superteam, Guardians of the Globe. But Mark slowly realizes his father is not the hero he thinks he is.
In Season 2, Omni-Man is now gone after his devastating battle with Mark, and it's up to Invincible, along with the new Guardians of the Globe, to protect the people of Earth.
Invincible stars Steven Yeun as Mark Grayson; J.K. Simmons as Nolan Grayson; Sandra Oh as Debbie Grayson; Zazie Beetz as Amber Bennett; Gillian Jacobs as Samantha Eve Wilkins/Atom Eve; Andrew Rannells as William Clockwell; Walton Goggins as Cecil Stedman; Jason Mantzoukas as Rex Sloan/Rex Splode; Mark Hamill as Art Rosenbaum; Ross Marquand as Rudy Conners, Kursk, and Bi-Plane; Seth Rogen as Allen the Alien; and Mahershala Ali as Titan.
Tagged:
beat
Character
claims
Creator
Favorites
Invincible
Marvel