Is Anant Ambani angry on Carryminati? New Video "Daily Vloggers Parody"

The latest video of CarryMinati who is one of the top content creators on Youtube in India, has been in controversy since it was uploaded. Reports are coming up that Anant Ambani, the son of Mukesh Ambani, warned CarryMinati for saying about Ambani in his video. Furthermore, reports also claimed that Anant Ambani asked the Youtuber to delete the scene from his video otherwise he will take legal action against him. Did Anant Ambani really react to CarryMinati's video? This fact needs to be checked before spreading the rumors that Anant Ambani is taking legal action against CarryMinati. You are asked to stick with this page and go through this column thoroughly and clear all the false rumors. Swipe down the page and read the details.
Is Anant Ambani Angry On CarryMinati?
CarryMinati is believed to be the best roaster in the country. He creates roast videos for his Youtube channel. Recently, he uploaded a parody video of daily vloggers. In his video, CarryMinati roasted a number of Youtube Vloggers including Saurav Joshi, Technical Guru Ji aka Gaurav Chaudhary, and Flying Beast aka Gaurav Taneja. However, it is true that Flying Beast aka Gaurav Taneja was not happy with CarryMinati's latest video in which he roasted him. On July 19, 2023, Gaurav Taneja tweeted, "For People asking… No @CarryMinati did not ask my permission before making the video." He further wrote, "Jab Khud ke content cycle pe baat aati hai, to har koi fisal jata hai." Continue reading this article and learn more details.
A few days later, Technical Guru Ji shared a reel on Instagram. But he was not seeming angry with CarryMinati for roasting him in his Youtube video. In fact, the portion that became controversial is in the segment of Technical Guru Ji's roast when CarryMinati makes fun of Technical Guru Ji by personifying to be very rich even more than Ambani but he uses an abusive word while comparing Technical Guru Ji with Ambani. CarryMinati says (Ambani mere l*de pe).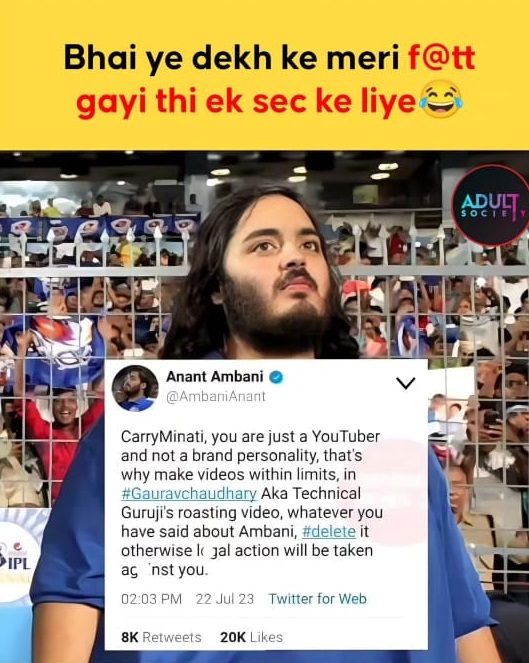 Some creative minds active on social media are now spreading an edited image showing Anant Ambani's tweet. In the tweet, Anant Ambani warned CarryMinati for saying about Ambani and asked him to delete the video. However, there is no such tweet that came from Anant Ambani. It is a fake post that is creating a stir and erupting controversy. Kindly avoid the rumors spreading on social media. Stay tuned to this website for more details and further updates.