What's Next for Gorillaz After Their Cancelled Netflix Film?
Gorillaz — a collaborative virtual band founded by Damon Albarn and Jamie Hewlett — has always been prime material for either a feature film or television show. Despite being a band first and foremost, every album release has always been accompanied by some form of overarching narrative that allows each of its members to change and grow between releases. Not to mention that the band's music videos have always been terrific examples of mixed-media animation. Albarn and Hewlett have no doubt recognized this, and from as early as 2001, work began on what would eventually result in Netflix's upcoming Gorillaz film.
However, significant cuts directed at Netflix's animation department have unfortunately killed the project. It goes without saying that fans are rightfully upset. Let's not lose all hope, though. Just as the band experimented with various musical genres, they also dipped their toes in various projects that brought its characters to life on the small screen. Amid the heated discussions, it's worth taking a look at what might be next for Gorillaz and whether the canceled feature film is still in the cards.
The Gorillaz Movie and Development Hell
The Gorillaz movie, as far as we know, is the end result of over two decades worth of rewrites, revisions, and reworks. Following the release of their self-titled debut, Gorillaz would subsequently announce that their sophomore album would be a soundtrack for a feature-length movie. Under the working title of Celebrity Harvest, it would reportedly be a dark story that focused on "the end of time, brought about by the sickness of celebrity culture." Unfortunately, due to creative differences, the project would never get off the ground beyond the pre-development stages. Instead, themes and ideas that would've been explored in Celebrity Harvest would subsequently be discussed on the album Demon Days.
Related: 15 Music Videos That Should Become Movies, Ranked
More than a decade would go by before an update for the project would be released, along with a dramatic change in format. Finally, coinciding with the release of Humanz in 2016, a ten-part mixed-media animated series would be announced, with Damon Albarn set to direct both the first and last episodes. While plot details surrounding the series are nonexistent, we can assume it would tackle themes similar to those explored on Humanz, focusing on what a grim future may look like based on the results of the 2016 election.
All this brings us to the current iteration of the project. What remains of it, at least. Few details are known, but we can glean from a handful of interviews and off-hand mentions that it would've likely mimicked the style of Daft Punk's Interstella 5555. It could've been a feature-length amalgamation of music with the same kind of mixed-media animation that Gorillaz are now closely associated with. Unfortunately, the project was reportedly cut due to a large number of projects being produced simultaneously. Unfortunately, a key member in getting the Gorillaz movie in development to begin with was no longer able to safeguard it.
What's Next for Gorillaz?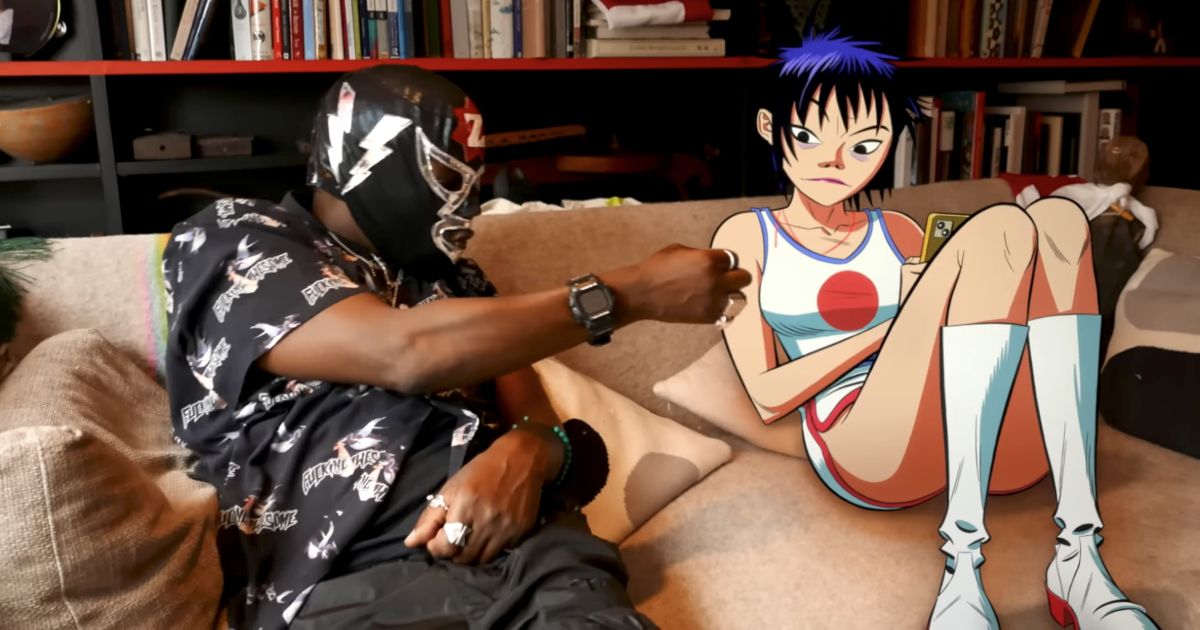 So, with plans for a feature film once again falling out, what can Gorillaz do now? The band is still receiving moderate success in its main area of expertise, its characters are as vibrant as ever, and it's still making interesting creative decisions with the current release of their latest album, Cracker Island. It wouldn't be a stretch to think that a movie may still be possible. In lieu of a feature film, however, there are other avenues that Gorillaz can travel down in terms of animated adaptations.
Fans of the band from their first album may remember their utilization of the internet for promotional material. They may also remember that a series of animated shorts called "G-Bitez," were created in tandem with the release of their self-titled debut and Demon Days. These shorts, while not nearly as visually complex as their full-blown music videos, give us an idea of what a short-form series based around Gorillaz may look like. Over six shorts, we see the band members in a variety of humorous scenarios, from reacting to bootlegged merchandise to hastily preparing an eel for dinner. While it seems quaint now, these shorts were instrumental in cementing the personalities of each band member. It turned what would've been faceless studio performers into genuine characters that played off each other in a comedic setting.
With how popular short-form content is nowadays, it may be to the band's advantage to return to the original ten-part series idea. Gorillaz as a band has always thrived on collaboration — everything from the art to the branding to the music itself is a result of multiple different hands contributing. Besides, the band is no stranger to producing shorts based on their characters. As a byproduct of multiple brand deals, the characters of 2D, Noodle, Murdoc, and Russel have all appeared with names like G-Shock, Converse, Motorola, and Pandora. Of course, it helps that shorts are a great deal cheaper to produce than a full-length feature film.
Related: How Halsey's Feature-Length Music Video Embodies a New Genre of Film
Then again, it's not as if other streaming services would be opposed to taking up a Gorillaz film, especially a musical. One of HBO Max's originals is a filmed version of a concert by The Weeknd. One of Paramount +'s original offerings is a full-on Madonna musical. So while the cost of animation would be significantly higher, it's not as if the idea holds no water.
It seems as though a Gorillaz feature film may have never been meant to be. As the fallout from the recent cancelation settles, all we can truly hope for is a pick-up announcement somewhere else or yet another retooling of the concept. The band itself already survived a lengthy hiatus that lasted several years — what's another few for an animated project?
Tagged:
Cancelled
Film
Gorillaz
Netflix
whats